Philosophy
At Freedive Weh we take pride in offering personalized and high quality teaching, focusing on individual needs and adapting our didactics to the level of confidence in the water already possessed by each individual student. In order to provide a high quality service, we offer longer learning time than most as well as a broad range of courses and training programs from beginners up to instructor level.
Agency
We chose AIDA as our main didactic method, since it is the one which offers a deeper and more detailed insight in all aspects of freediving, from physiology to freediving techniques and safety procedures. AIDA is also the largest and most reputable training agency worldwide, which promotes and organizes national and worldwide championships and registers all world records. Most of the top freedivers worldwide have been trained by this method and are currently AIDA Instructors.
Teaching language
English and Indonesian : all year round for introduction to freediving, AIDA 1 to 3 courses and training programs.
English as main language for AIDA4 and Instructor, and additional explanations possible in French.
Discover freediving – 3 hours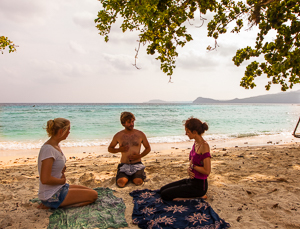 Get a glimpse, then get addicted : if you are curious about freediving and wish to have a glimpse on what it is about, this is an experience tailored for you.
The entry requirement is to be able to swim and snorkel on a short distance.
An instructor will introduce you to the proper breathing and relaxation techniques on our terrace, guiding you to try your first breath holds in a relaxed and comfortable way. After some practice, you will repeat some breath hold exercises in shallow waters before going for your first dives on our house reef.
Introduction to freediving – 1 day – AIDA1

No matter what your background in diving is, this course will open your mind to a whole new underwater experience.
You just need to be able to swim and snorkel comfortably for at least 100 m to participate.
After a quick introduction to the basics of theory, you'll learn how to prepare yourself, in particular through relaxation and breathing, for a peaceful, confident and enjoyable breath-hold dive. You will then practice your first static breath holds in shallow water and then you will apply what you learned diving down along a line to max 10 m depth. Meet us for an amazing trip in the blue…
Beginner Freediver – 3 days – AIDA2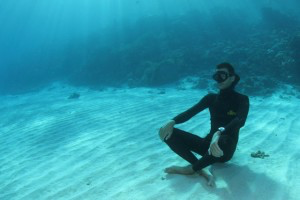 This course is the foundation freediving course covering the necessary skills and knowledge to safely freedive: planning, organisation, execution and safety procedures. Take your first deep dive in the blue and get addicted!
You need no previous experience to participate, anyway you need to be already confident in the water and to be able to swim and snorkel comfortably for at least 200-300 m.
The course includes:
3 theory sessions – learn the basics of freediving: equipment, how to breathe before and after a dive, how our body is naturally designed to hold our breath and swim in the water, and how to assist or rescue a buddy in trouble.
1 beach session – apply & improve the basics: practice your breathing techniques in the water, improve your fining style and get a first feeling of breath holding in static and dynamic apnea. Apply the safety procedures and rescue techniques covered in the theory session.
3 dive sessions – in open sea, learn and apply the techniques to go deeper comfortably and safely. Discover different disciplines, going down along a line or using the fins only. Beyond the diving techniques you will learn how to supervise and rescue a buddy freediver which will allow you to train safely with another freediver after the conclusion of the course..
You will be surprised with the improvements you will naturally achieve during the course! By the end, you will easily be able to perform at least a 2 minutes breath-hold, swim horizontally for at least 40m and dive between 16 to 20m in open ocean.
Advanced Freediver – 4 days – AIDA3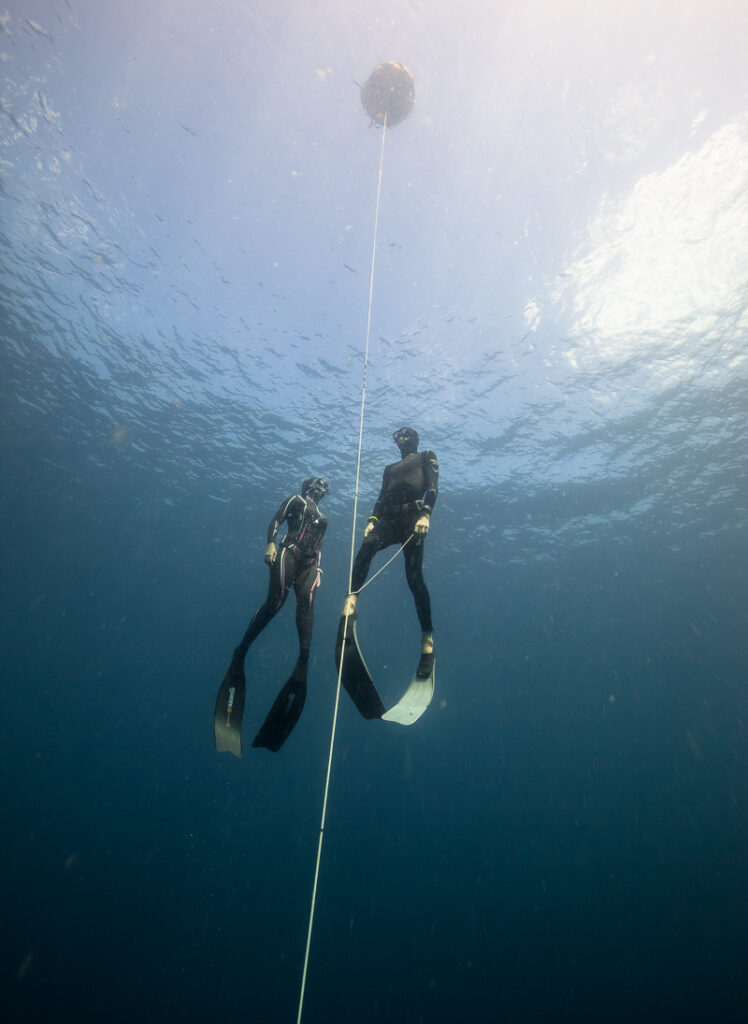 Interested in diving deeper and improving your technique? This course is the intermediate level, building up on your beginner licence (AIDA2 or equivalent) or extended previous experience.
You will develop higher knowledge of techniques to get you deeper safely such as freefalling, Frenzel equalizing, training programs. You will be able to independently plan and execute a freediving session with buddies of the same experience.
The course includes:
3 theory sessions during which you will acquire a deeper understanding about the physiology of freediving, the Frenzel equalization technique, freefalling past the neutral buoyancy depth, the training methods to increase your breath holds and you performance in freediving.
2 beach sessions : get a refresher of your rescue skills and learn how to plan and execute training sessions to improve your CO2 tolerance. Get static and dynamic training and improve your Personal Best!
4 dive sessions – improve your diving technique and performance: efficient fining, discover the amazing feeling of freefalling, fine-tune your body position and learn controlled turn. Go deeper and build-up your confidence as a freediver. Practice deeper safety and rescue exercises.
The objective of the course is to lead you to perform static breath-holds of at least 2:45 minutes, dynamic with bi-fins of at least 55 m and dive to a depth between 24 and 30 meters on constant weight.
Master Freediver – 5 days – AIDA4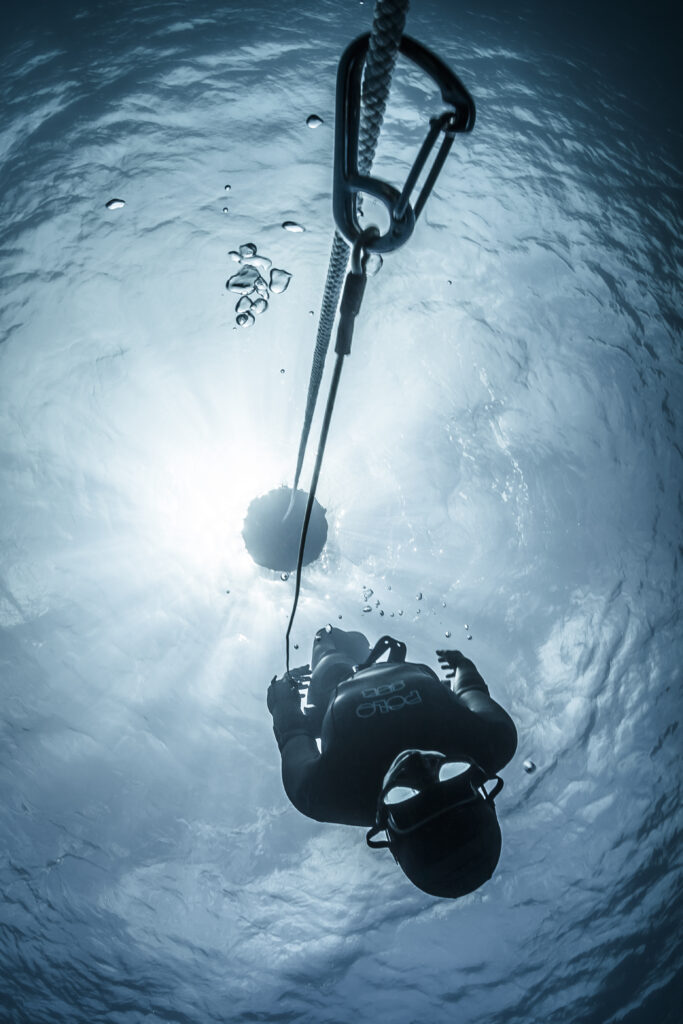 This course takes you to a whole new level of confidence in your Freediving. Not only will you learn the latest techniques for deeper diving but you will also learn more about conditioning your body for Freediving. This course will help you push your limits. It is the highest level a recreational freediver can achieve.
This course consists of:
3 theory / dry practice sessions: fitness for freediving, body and lungs stretching, apnea dry training.
2 beach sessions: go into further detail about static and dynamic to improve your technique and relaxation; practice more advanced and deeper rescue skills.
4 open water dives to develop general depth technique: learn or fine tune mouthfill deep equalization & freefalling, see how to use passive exhale dives in your training and how to perform them preventing associated risks.
To successfully complete this course you will perform a 3 minute 30 second breathold, swim 70 m underwater with fins and dive to 32 meters deep in the open water.
Instructor course
AIDA instructor courses are organized periodically and are run by world champion freediver Remy Dubern.
You can [check the planning page] to see next planned session and contact us to receive information or book your spot.
Quick information:
Maximum 6 candidates sessions
Course in English language
Entry level: AIDA4 or equivalent, 32 meters depth with bifins
Depth training is available prior (from October 15th), during and even after Instructor course to refresh and improve your skills.
You can keep on training after completing your instructor course to validate the 40m certifying depth or other required performances.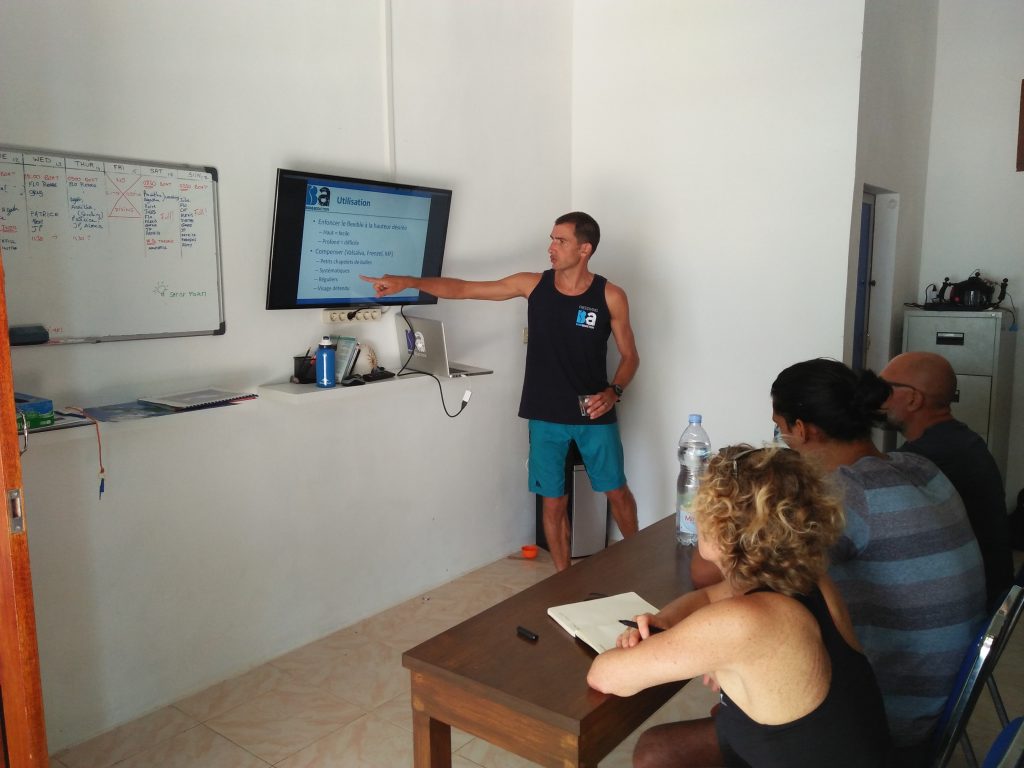 Other activities
Coached sessions
If you already have a freediving certification and you want to improve your skills on any freediving discipline, our passionate and experienced instructors can provide you coached sessions all year round in English, French, Italian, Spanish and Portuguese languages. If you plan to train with us for over a week, we can provide you with convenient weekly packages (please visit "our prices" page for further details).
Training sessions
If you already have a freediving certification and you wish to train with other certified freedivers, we can provide you with all the necessary equipment and bring you to the best spots of the island with calm waters and enough depth. If you plan to train with us for over a week, we can provide you with convenient weekly packages (please visit "our prices" page for further details)
Exploration dive sessions
Pulau Weh offers some of the most stunning dive sites of South East Asia, which are amazing to be explored on freediving. Among them we can mention reefs with gorgonians, reef sharks and giant trevallies, WW2 wrecks, pinnacles and an underwater geothermal hotspring bubbling up sulfuric gases. Exploration dives are available all year round and can be organized on demand.